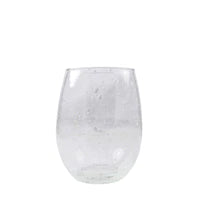 Mariposa
Mariposa Bellini Stemless Red Wine Glass
Bellini is a rich line of Italian glassware designed to handsomely suit any taste. With unparalleled texture and clarity, bubbles are suspended in glass as if fizzing forever. Stemless Red Wine glass fits comfortably in your hand and your cupboard.

Dimensions: 4.75" H 
Holds up to 20 oz.
Bellini's effervescent look is a result of bicarbonate of soda exploding in the glass, while being individually handblown. In rare cases, slight ripples might appear at the rim. 
• Dishwasher-safe using a mild detergent on a warm, gentle cycle; use air dry setting to avoid potential fogging.