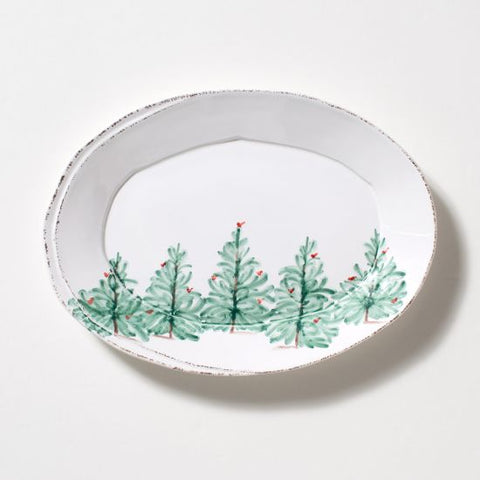 Vietri
Vietri Lastra Holiday Small Oval Platter
Delight in the magic of the holiday season with the Lastra Holiday Small Oval Platter. Whether you are hosting a winter brunch or a Christmas dinner, this collection is the perfect complement to your holiday décor. Handpainted on Italian stoneware in Tuscany.

13.5"L, 10"W

Dishwasher Safe - We recommend using a non-fragrant/non-citrus, non-abrasive detergent on the air dry cycle (or econo heat when available). It is recommended to place the dishes so they avoid touching during the high pressure dishwashing and as such we recommend you do not overload the dishwasher. All dishes should be dried thoroughly before being stored.
Microwave Safe - The temperature of VIETRI pieces may vary after microwave use due to the handmade nature of quality, natural clays. Thus, as with all products used in a microwave, please use the following precautions:
Always use a pot holder or oven mitt when handling the product as item may get hot.
Do not permit children to handle any product that has been heated in a microwave.
Do not put any products into a microwave without food or liquid on or inside the piece.
Allow item to cool before taking it out of the microwave.