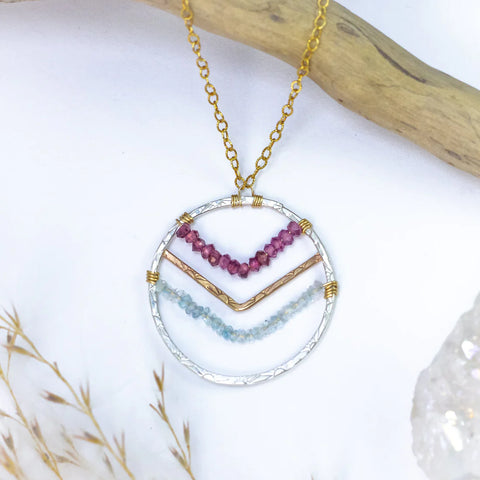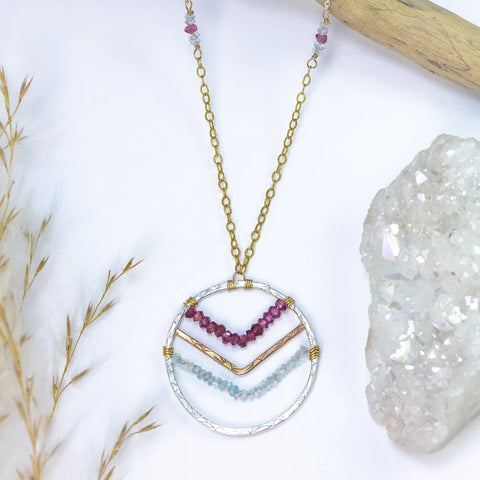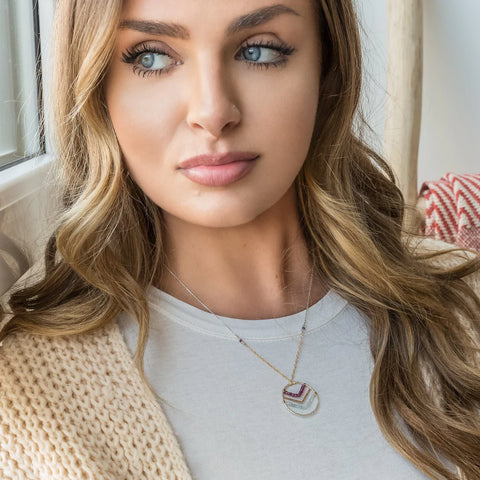 Laura J Designs
Laura J Aurora Kaleidoscope Necklace
Step into a world of kaleidoscopic beauty with our Aurora Kaleidoscope Necklace. This extraordinary piece is a masterpiece of design, where sterling silver, gold-filled accents, and gemstones converge to create a wearable work of art that captures the essence of a vibrant autumn palette.
The pendant, a delicate sterling silver circle, is more than just a canvas; it's a testament to the artistry of nature and human hands. Lovingly hand-textured, it invites you to touch and feel the intricate patterns that mirror the gentle sway of leaves in the autumn breeze.
But the true magic unfolds within the pendant. Chevron shapes emerge, crafted with radiant rhodolite garnet and serene blue topaz gemstones. A gold-filled metal chevron takes center stage, mirroring the warmth of autumn's embrace. These elements blend seamlessly, creating a symphony of colors that's reminiscent of a lively kaleidoscope.
The pendant is adorned with textured gold-filled chains and gemstone links, adding depth and movement to the piece. Delicate yet durable, a silver chain graces the back of the necklace, ensuring a comfortable fit that mirrors the delicate dance of nature.
• Sterling silver and 14k gold filled
• Rhodolite garnet and blue topaz
• Pendant Dimensions: about 1"
• Necklace Length: 17"