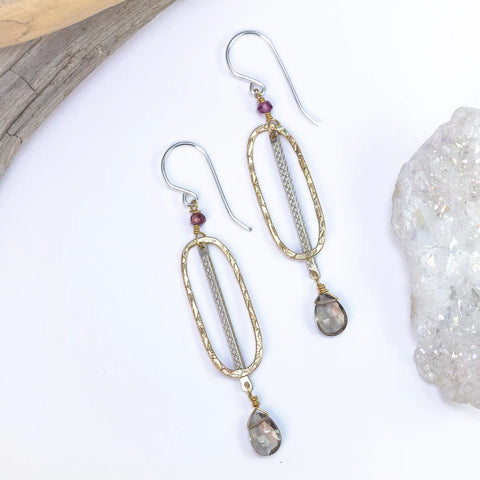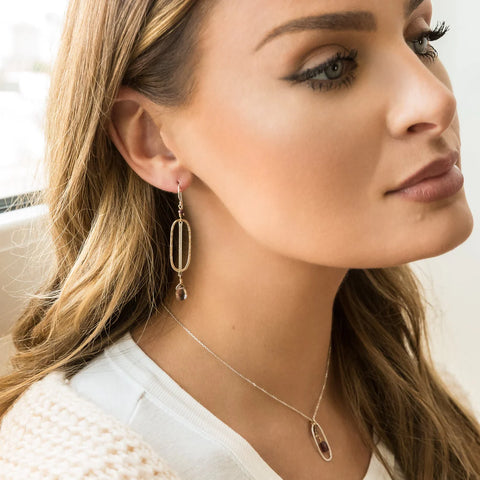 Laura J Designs
Laura J Topaz Fusion Earrings
A true masterpiece of design, these earrings embody the harmonious fusion of elements, crafting a wearable work of art that captures attention and ignites imagination. Suspended from a radiant rhodolite garnet gemstone, these earrings begin their enchanting journey. The deep purplish-red hue of the garnet evokes the passionate hues of autumn, setting the stage for the beauty that follows. A textured sterling silver bar gracefully hangs from the gemstone. Delicately moving around this bar, a gold-filled oval shines, a symbol of unity and refinement. And as if suspended in midair, a smoky topaz briolette dances below. Its rich, warm hues capture the very essence of autumn's allure. From the fiery rhodolite garnet to the intricate textures of the silver bar, and the understated elegance of the gold-filled oval, these earrings create a symphony that resonates with the wearer's grace and sophistication.
• 14k gold filled and sterling silver
• Smoky topaz and rhodolite garnet
• Dimensions: about 3/8 x 1 3/8"