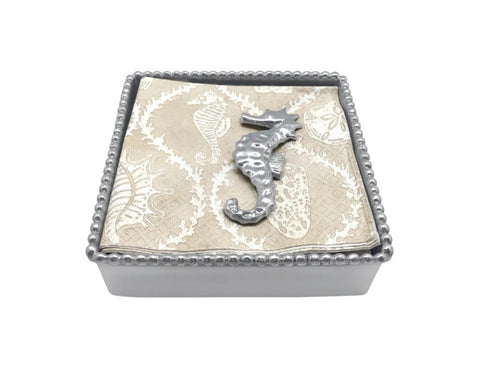 Mariposa
Mariposa Seahorse Beaded Napkin Box
Let the whimsy of the sea wander gracefully into your home with our Seahorse Beaded Napkin Box. Our meticulously handcrafted Seahorse Napkin Weight is set atop our 6" Rope Napkin Box, filled with cocktail napkins featuring a beautiful watercolor underwater seahorse design. Napkins rest in a nautical twist bordered Napkin Box and are part of our signature Seaside Collection. Napkin Box and Weight are handcrafted from 100% recycled, buffed-until-brilliant aluminum.
Dimensions: 5.75" L x 5.75" W x 1.5"H
*Napkin may vary
Slight "imperfections" and cooling marks are the hallmark of handmade goods.