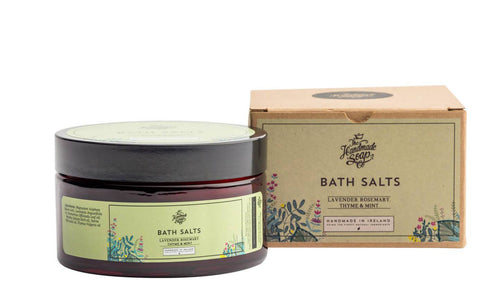 The Handmade Soap Company
THE HANDMADE SOAP COMPANY LAVENDER, ROSEMARY, THYME & MINT BATH SALTS - 6.3 OZ
Transform bath-time into me-time with these gorgeous garden-scented Epsom bath salts. Fragranced with lavender, rosemary, thyme and mint it restores skin and, on a really good day, faith in humanity. This is treat you deserve.
Brighten your senses and feel the calming power of Lavender Bath Salts easing the stress away. Enjoy the traditional herbal fragrances of rosemary, thyme and mint in a classic bath salt. Gentle and caring, it's the perfect gift for anyone who enjoys stretching out in a spa-level bath at home.
Inside Scoop: They also make a great skin exfoliant. Use before stepping into the bath for double the benefits.
Free from parabens, SLS, petrochemicals and other synthetics.
Cruelty free and vegan friendly.
Presented in a glass apothecary style jar.
The box is made from FSC Certified sustainable card. Every step of our process is mindful of future generations.
Made in Ireland