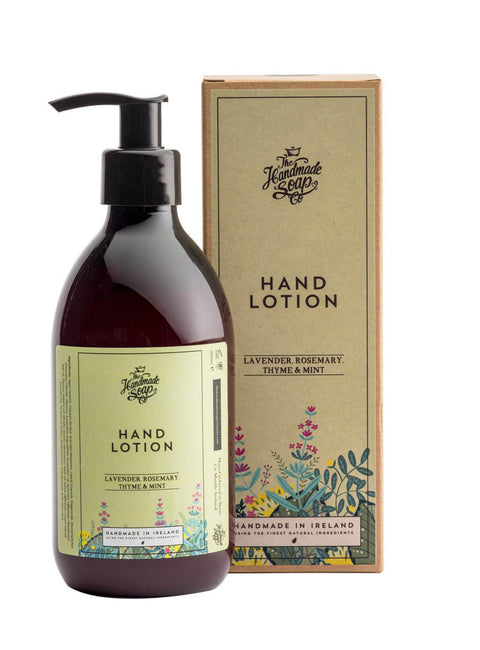 The Handmade Soap Company
THE HANDMADE SOAP COMPANY LAVENDER, ROSEMARY, THYME & MINT HAND LOTION - 10 OZ
A nourishing yet light and easily absorbed Lavender Hand Lotion with ingredients carefully chosen to gently care for hands and wrists. The special scent blend was inspired by an Irish herb garden, restorative and restful lavender is paired with extracts of rosemary, thyme and mint to give a fragrance which is gentle and rejuvenating.
This natural Lavender Hand Lotion absorbs like a dream, restoring hard-working hands back to their lovely selves. Suitable for all skin types, it leaves hands feeling silky soft and happily scented.
Partner it with our cleansing Lavender & Mint Hand Wash or Lavender Hand Cream for on the go.
Free from parabens, SLS, petrochemicals and other synthetics.
Cruelty free and vegan friendly.
No Single-Use Plastic. This bottle is made from 100% recycled materials.
The box is made from FSC Certified sustainable card. Every step of our process is mindful of future generations.
Made in Ireland